Energy efficient homes are becoming the norm.
It's a growing trend around the world and for a good reason, too.
Whether you're remodelling your home, having a conversion or a simple extension, having an energy efficient home can have some huge benefits. Ask any residential building contractor. Not only are you making a positive contribution to a cleaner environment, but you can also save money on your energy bills, increase the quality of air distribution in your home and reduce the noise levels of standard appliances.
According to the Energy Saving Trust (EST), the average household could save about £280 a year on its fuel bills by being more energy efficient.
Energy efficient homes are a win-win. Here are 6 ways you can make your home efficient:
Insulation
Insulation has a plethora of benefits. Not only does it provide your home with peace and quiet, it provides comfort by keeping the heat in which in turn keeps those heating bills down. For example, by investing (a very small amount) of money in a water heating cover (on average about £15) you could be saving up to three times as much a year.
High Quality Windows
Simply replacing your windows when they are getting old can have a huge difference on your heating bills, warmth and even noise levels. To level up your energy efficiency, by investing in double pane, low emissivity windows, you can look to save even more energy and money.
Solar Panels
Solar panels may be costly at the outset, but they will save money in the long run. They promise low maintenance costs and lower energy bills all because you are using renewable energy.
Air Seals
Investing in sealing your property properly, can not only reduces energy costs by keeping the heat in, but it will also keep out noise, mold and nasty allergens. All it takes is a quick seal using a suitable self adhesive between any gaps in the floors and skirting boards, to see and feel a noticeable difference. According to the EST, this can save you more than £50 a year.
Energy Efficient Lights
The standard bulbs bought in shops are usually incandescent bulbs. But did you know you can actually reduce energy usage by up to 50% just by switching these to LED lights?
Energy Efficient Appliances
New appliances tend to be more energy efficient than older appliances, cutting energy usage nearly in half. Check with retailers their rating first, to ensure you are saving as much money and energy as you possibly can. For example, according to a study by Which?, by using an energy efficient fridge-freezer, you could potentially save up to £85 per year. This, of course, does depend on the size of your fridge and how much food you store in there!
Replacing an old, inefficient boiler with an A-rated condensing model could save as much £300 a year, although you will have to decide whether this is worth the £1,000 to £2,000 cost of buying and installing one.
Upgrade Heating Systems
Did you know just how much energy you are wasting with an out of date heating system?
By upgrading old heaters with new alternatives, and fitting a thermostat to moderate the heating in your home, you could be saving more than £150 in your home.
Whether you invest in all of the above, or just one, energy efficient homes can have some serious financial savings, as well as contributing to a healthy environment. And of course, the cheapest option: ensuring you are doing as much as you can in your home. Turning off lights, tv's and radios and washing your clothes at 30 degrees rather than 40 degrees.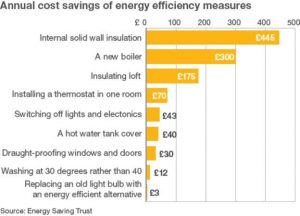 Do you have any energy efficient tips for the home?
If you have any questions please get in touch with us here at Form Construction for all your building contractors needs to ensure you receive the highest quality service.